Privacy policy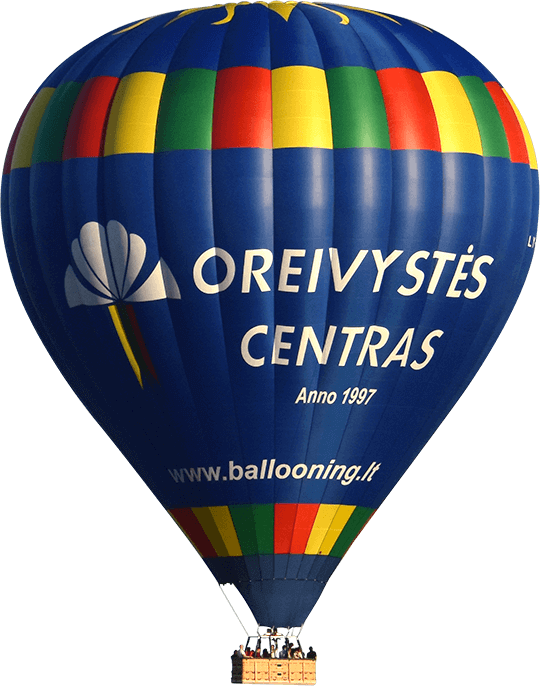 Revised: October 30, 2019
The Privacy Policy of a public institution Oreivystės centras / Ballooning.LT (hereafter – "Ballooning.LT" ), company code 224008580, VAT code LT240085811, registration address Pylimo g. 45-12, 01137 Vilnius, business address J. Dobkevičiaus g. 6, 02189 Vilnius, phone number 8652 00510, e-mail info@ballooning.lt, website www.ballooning.lt,  applies when you provide us with your personal data through the Website www.ballooning.lt (hereafter –  "Website").
When processing your personal data Ballooning.LT is guided by the Regulation (EU) 2016/679 of the European Parliament and of the Council of April 27, 2016 on the protection of natural persons with regard to the processing of personal data and on the free movement of such data, and repealing Directive 95/46/EC (General Data Protection Regulation) (hereafter – Regulation), the Law on Legal Protection of Personal Data of the Republic of Lithuania, as well as other applicable data processing and protection legislation and requirements.
Ballooning.LT acknowledges and respects the right to privacy of every natural person who visits the Website, hence in this Privacy Policy we provide you with the information about the processing of your personal data.
What kind of information is collected?
In order to provide, improve, protect and evaluate our services, we collect the following information:
Personal Data
When you make an inquiry on our website, book our services for yourself or as a present, we collect the following information:
Inquirer's / Customer's name, surname, telephone number, e-mail address,
Each passenger's gender, name, surname and weight,. We also ask to confirm that the passenger is not pregnant or does not have any health problems that could prevent the use of our services.
If the service is bought as a gift, we collect the name and surname of the person to whom the gift is intended. If a Customer requests the Gift Certificate to be sent directly to the recipient, we also ask for the recipient's address. In addition, the following information can be collected: on what occasion our service was gifted, special wishes to go with the Certificate, the name and surname of the person who bought the gift.
Payment information: the vendor of the ticket held, ticket number, type, value, date and the method of purchase, validity period / expiration date,  or a method of a future payment or the payment already made (credit or debit card, bank transfer, cash), amount, date. Payments by credit or debit cards are processed by a third party – PaySera payment platform, thus Ballooning Centre does not ask for and does not store clients' credit card numbers, expiry dates or codes.
Additionally, the following information may be collected: passengers' ages, countries from which the passengers have arrived, languages spoken, dates when the passengers wish/are available to fly (also preferred flight time: morning or evening), place where the passengers wish/are available to fly, place of residence (only the location without the exact address), name, address and room number of the hotel where the passengers are staying (this information is collected if passengers book our pick-up service), any other information that is voluntarily provided by the Inquirer / Customer / Passenger (e.g. has the passenger already flown in a hot air balloon).
Website Usage Data
We may also collect information provided by your browser when you visit our Website www.ballooning.com or when you access it from a mobile device.
This may include information related to your IP (Internet Protocol) address, browser and device type, information on websites you have visited previously and other identifiers associated with your device.
Cookie Data
Our Website uses cookies in order to to track your activity on the Website and store certain information.
Please see our Cookie Policy Cookie policyfor more information.
For what purposes do we collect personal data?
Personal data on the Website is collected for the following purposes:the administration of Inquiries;
the planning and administration of the services booked;
the issuing of booked Gift Certificates, confirmations, invoices and other financial documents;
to provide customer service and assistance;
the evaluation of our services, feedback, business and statistical analysis, general insights that allow us to improve the quality of our services;
direct marketing;
to inform about any changes;
to fulfil any other contractual obligations;
to process bookings,
to solve and prevent technical problems;
How do we acquire your personal data?
Personal data is acquired directly from the Inquirer/Customer/Passenger. If you have not booked our services personally, we receive the information about you from the person who has booked the service.
When booking services, you must provide Ballooning Centre with accurate and correct personal data. Information about any third parties (your fellow travellers or the recipients of the gift certificate)  should be provided with their consent.
Personal data could also be acquired from the Ballooning Centre's partners (ticket distributors, event organizers, your employer if the company decides to organize a hot air balloon tour for its employees).
Please note that some of our services cannot be provided without the detailed and accurate information, which is mentioned in this Data Policy, about the Inquirer / Customer / Recipient of the gift or Passengers.
Criteria for a Lawful Processing of Personal Data
 All the personal data you provide are processed solely based on the criteria (grounds) established in the Regulation and only for the purposes for which the data were obtained. Your personal data can only be processed on legitimate basis, that is.:
– for the purpose of fulfilling your order or contract to which you are a party, or at your request for any other actions before signing a contract (Article 6 (1) (b) of the Regulation), that is when you purchase (book) services through our Website;
– after your consent to the processing of personal data (Article 6 (1) (a) of the Regulation) is acquired, i.e. when you consent to data processing for direct marketing purposes;
– for the legitimate interests of the Ballooning Centre (Article 6 (1) (f) of the Regulation), such as flight safety, improvement of services, marketing, informing about our services,  detecting, preventing and addressing any cases of fraud or abuse, as well as security or technical issues related to our services, or other.
To whom do we provide your personal data?
Your personal data may be transferred to third parties in order to provide you with our services. These third parties could be providers of identical services if they were chosen by Ballooning Centre for the provision of your selected service, other people/service providers for whose services your personal data is necessary (e.g. pilots and crew members, insurance companies and etc.).
For the managing of personal data, Ballooning Centre has a right to use data management service providers which would manage data on behalf of Ballooning Centre, such as cloud, server hosting and related services providing companies that store your personal data, as well as IT infrastructure monitoring companies which may have access to your personal data, marketing companies, etc. Providers of the aforementioned types of services act only in accordance with the legislative requirements and the instructions from Ballooning Centre.
Your personal data are never transferred to any third country or international organization. Your personal data is stored and processed within the territory of European Union (EU) or European Economic Area (EEA).
How long is your personal data stored?
Your personal data are not kept for longer than required for the purposes of data processing and (or) the Regulation. The duration depends on the specific storing purposes and the criteria for lawful personal data processing.
For the purposes of direct marketing your personal data are processed for 5 years.
Your Rights
 You have the following rights:
a right to familiarize yourself with your personal data, including the right to receive a copy of your personal data;
a right to ask to correct your personal data if it is inaccurate;
a right to have your personal data deleted ("the right to be forgotten");
a right to restrict the processing of your personal data;
a right to the transferring of your personal data;
a right to reject the processing of your personal data.
You also have a right to revoke your consent to the processing of personal data for direct marketing purposes (if such consent has been given) at any time by informing Ballooning Centre using the contacts provided. However, the withdrawal of your consent does not affect the lawfulness of the processing of your personal data prior to the withdrawal of the consent.
You also have a right to file a complaint with the State Data Protection Inspectorate (for more information visit www.ada.lt) if you believe that your personal data are being processed in breach of personal data protection legislation.
In order to exercise these rights, you must submit a request to us in writing and in a way that allows you to be identified.
All the communication relating to the processing of personal data is made by email info@ballooning.lt or by mail: Kalvarijų g. 14-2, Vilnius. A response is delivered in the same form in which the notice or claim was received by Ballooning Centre. The response is delivered no later than 1 (one) month from the date the notice or claim was received (if necessary, this time limit may be extended for another 2 (two) months).
Changes
The terms of this Privacy Policy may be changed at the initiative of Ballooning Centre or as a result of any legislative changes. Ballooning Centre notifies about the changes in Privacy Policy on its Website.